About Mucho Gusto Accessible Travel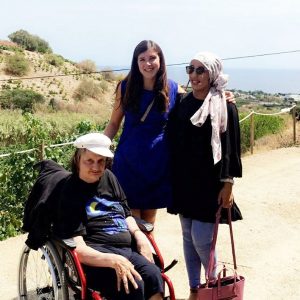 Personal Travel Planning
Mucho Gusto Accessible Travel is a personal travel agency. We're specialising in wheelchair accessible and inclusive trips in Barcelona and throughout Spain for people with physical or mental disabilities. Quality is what makes us stand out. We'll only recommend hotels, restaurants or activities that we've experienced personally and are accessible for disabled travelers. 
You can rely on us for everything from hotel recommendations, equipment rental such as a shower wheelchair or a hoist, transportation from Barcelona airport or port, to a host of original daytime activities. Whether you prefer to book a single item such as disabled Barcelona airport transfer, or you'd like to combine a few of the different services we can offer, we'll be happy to help with your specific needs – just feel free to talk to us.
All trips are inclusive and accessible for disabled passengers with reduced mobility, whether in a wheelchair, mobility scooter or other accessible vehicle. Our services and activities are personalised and suitable for solo travellers, couples, families and groups of friends alike. We also work together with sociable organisations with disabled members wanting to organise an original group holiday. Your journey, your way!
Keith Baker, our inspiration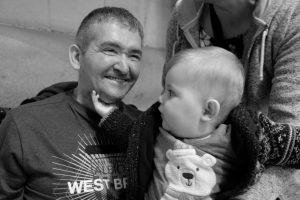 Esther met her boyfriend Dan in Barcelona in 2012. A couple of months later, when Dan's parents Keith and Lesley came to Barcelona for a visit, Esther got to know them as genuine, caring, down-to-earth people as well as loving parents.
Keith was a great dad, husband and son, with a wonderful sense of humour. The biggest difference between him and many other dad was that Keith used a wheelchair to move around.
Keith and Lesley's stay in Barcelona left a big footprint behind. Esther was both moved and impressed by the strength and closeness of Dan's family, and with how normally and naturally they cope with Keith's illness and paralysis. At the same time, Esther became aware of how wheelchair-friendly the city of Barcelona is, how well the public transport is adapted for the most part, but also of the fact that certain activities can pose accessibility challenges for disabled travelers. But most importantly, she began to realise how Lesley and Keith could enjoy a city trip just as much an ordinary tourist would, as long as you knew how. Slowly Esther, together with Dan, became more excited by the idea of combining her passion for people with her admiration for Barcelona and a desire to make it even more accessible and enjoyable.
Esther founded Mucho Gusto Travel in 2016, with the goal to offer disabled people with reduced mobility tailor-made trips that deliver three key ingredients: to enjoy a wonderful holiday in comfort, to experience something new and unique, and to be as inspired by their journey as Esther is by people like Keith who live life to the fullest.
Hi, my name is Esther. I was born and raised in Ghent, Belgium. Fascinated by the city, I swapped Ghent for Barcelona in 2012. I speak Dutch, English, French and Spanish.
A while ago, I studied Communication Sciences and then worked in marketing for eight years, until the end of 2015. I founded Mucho Gusto Travel early 2016, inspired by my father-in-law Keith and with the support of my boyfriend Dan who I met in Barcelona.
I combine Mucho Gusto Travel with freelance tour guiding in the city. I really enjoy sharing my knowledge about the city and creating unique experiences.  
In my spare time, I love spending time with my son Pau, reading, practising languages, walking and swimming. 
My favorite things to do in Barcelona: enjoying a day at the seaside in Barceloneta during autumn and winter, having a picnic with friends and family in the Parc de la Ciutadella, walking in the Collserola natural park and enjoying the view of Barcelona's skyline.