Accessible hotel by the beach
✔ Nice, large hotel experienced in disabled travel 
✔ In the cosy Poblenou district
iLUNION bARCELONA POBLENOU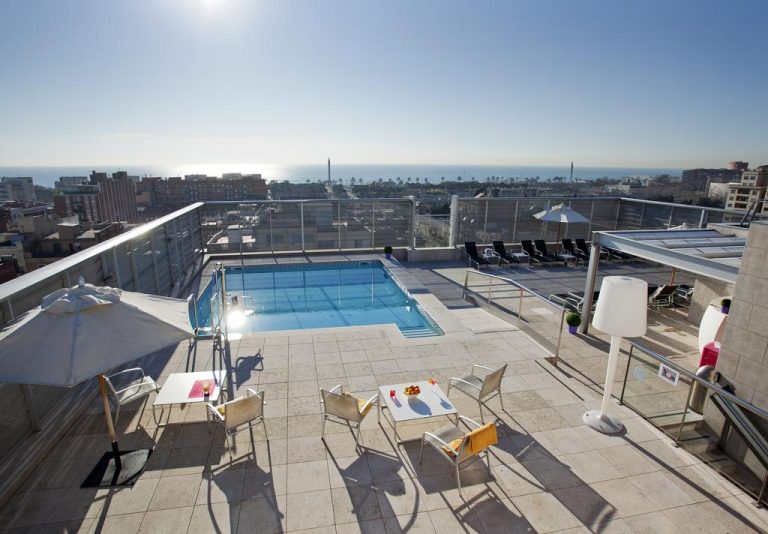 WHAT?
This is a specialized accessible hotel by the beach that has years of experience receiving travelers in a wheelchair. The hotel has a large rooftop terrace with accessible swimming pool and lift. So every day you can choose between the pool or the beach during your stay.
ACCESSIBILITY
Building and rooms are 100% accessible
Outdoor swimming pool with hoist
Roll in shower
Toilet rail
Alarm present
Details & dimensions on request
FACILITIES
Accessible rooftop terrace with accessible swimming pool (hoist)
Fitness room
Breakfast buffet
Great Italian restaurant opposite 
Free WIFI
LOCATION
Accessible hotel by the beach, in the calm, beautiful district of Poblenou. Near the quiet beach where you can sunbathe to your heart's content. The neighborhood is becoming more popular year after year and counts numerous nice shops and a has a charming Rambla full of good little restaurants.
PUBLIC TRANSPORT
Accessible bus stops such as H16, H14 and 6
Rely on our expertise in disabled travel, and allow yourself to start your journey as relaxed and comfortable as possible. 
Some examples of our services:
Ask us for your wheelchair accessible airport transport, to your hotel or cruise ship. All our drivers are very experienced and ensure a friendly and safe transfer.
You can also count on our tips for wheelchair accessible rooms in Spain.
And you do not have to carry the hoist or shower wheelchair on the plane. We have excellent suppliers of equipment rental throughout Spain. We ensure that the material is ready so that you do not have to carry it along.
We will propose you some nice activities such as wine tasting, cycling with the handbike etc.
We will give you our tips with wheelchair-friendly restaurants in Barcelona etc.
We are standby for you if there are problems or questions.
We do everything we can to make your stay comfortable and carefree.
Just contact us!